Plan Your Visit to Workshop Players
We look forward to seeing you at Workshop Players theatre in Amherst, Ohio's oldest theatre-in-the round, now embarking on its 75th year. Once a one-room schoolhouse, this intimate theatre seats approximately 100 people, and there is not a bad seat in the house!
---
Location
Workshop Players is located at:
44820 Middle Ridge Road
Amherst, Ohio 44001
Our Box Office can be reached at (440) 634-0472. Please do not hesitate to call, or submit the form on our Contact Us page with any questions or concerns
Parking
Parking is tight. We park cars around the theatre building, bumper to bumper with other cars. Because of the limited size of our lot, we encourage those who can do so to carpool, and, in addition, no one will be able to leave until everyone does!.
Additional Parking Option
If mobility is not an issue, there is a parking lot that can be accessed at 44786 Middle Ridge Rd. (two doors east from the theatre). Look for the sign that says Amherst Township Soccer Fields and Baseball Fields. The lot is to the left after you drive down the hill. Then, walk up the inclined concrete walk to the theatre.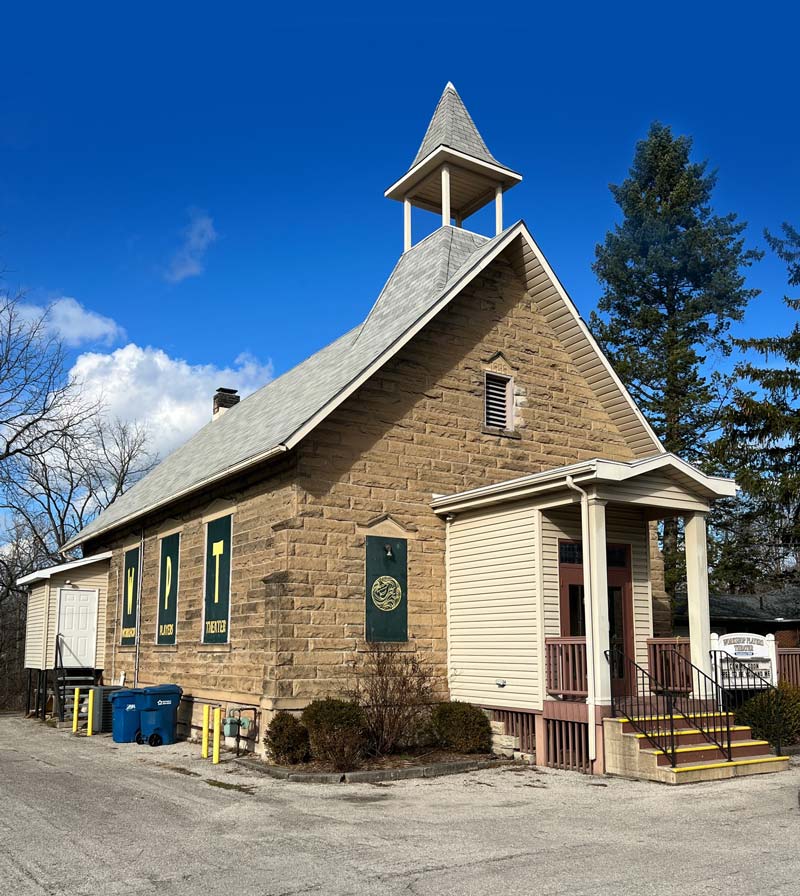 Tickets & Check-In
In our ongoing effort to support the environment, we do not print tickets but use your name instead. When you arrive, you will be greeted by a box office member; merely state the name under which your reservation was made and indicate the number of people in your party.
Seating
We do not assign seats but give you the opportunity to choose seats on a first-come, first-served basis.
Seating for Groups
If you are bringing a group and wish to sit with each other, please arrive early so that you can choose seats that are together.
Day of Show
The "curtains" rise at 7:30 p.m. on Thursday, Friday, Saturday evenings and at 3:00 p.m on Sunday matinees. Doors open 45 minutes before the curtains rise, so please be sure to come at that time so everyone in your party will be able to sit together. It is also best for those who may need assistance or floor level seating.
Accessibility
The theatre has a ramp to accomodate wheelchairs, and seating is available in the front row for handicapped individuals - However, the box office needs to be made aware prior to your visit. Please note, the rest room facilities are not handicap accessible.